Convertible Rugged Laptop
Powered with Intel® Core™ Tiger Lake and Windows 10 IoT Enterprise operating system, WM-L140TG Rugged Laptop has a unique 360 convertible design for easily transforming from a laptop into a tablet computer. The hinges are flexible for effortless flipping yet firm to support the touch screen uses as a laptop. It strikes the right balance between sturdy and practical.
WM-L140TG supports dual battery for hot-swapping, and comprehensive wireless connectivity options. It features a daylight readable panel with direct optical bonding, anti-glare, and a user-friendly projective capacitive touch screen. WM-L140TG supports a wide range of optional peripherals, including a built-in fingerprint scanner, RFID, or smart card reader.
With an IP65 rating and passed the MIL-STD 810H shock, drop, and vibration tests, WM-L140TG is demonstrated toughness to withstand drops, extreme temperatures, altitudes, humidity, water, and dust exposure.
Highlights: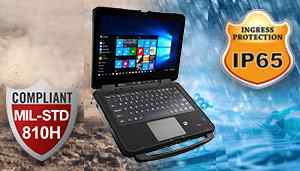 IP65 rating and MIL-STD-810H Suitable for Public Safety and Military application
WM-L140TG series rugged laptop can go wherever you go, thanks to an IP65 rating and MIL-STD-810H shock, drop, and vibration testing. WM-L140TG series is tough enough to withstand repeated drops, extreme temperatures, altitudes, humidity, and water and dust exposure, suitable for Public Safety and Military application.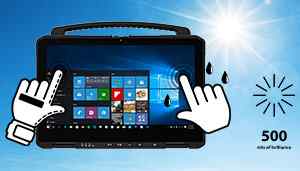 Greater comfort
WM-L140TG series Laptop is designed to make work less laborious and seamless. Its new and brighter FHD display with optical bonding technology can support daylight readability. Also, equipped with diverse touchscreen modes, including fingertip, pen, or glove, and configurable multi-touch gestures for faster access to commonly used Windows features and functions.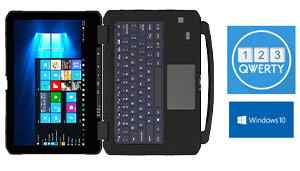 Full-scale QWERTY Layout keyboard
WM-L140TG series Laptop's keyboard is an 80-key spill-resistant design with a full-scale QWERTY layout. The keyboard itself is top notch. Black keys are clearly marked with large white letters and symbols with backlight and there is nice tactile feedback.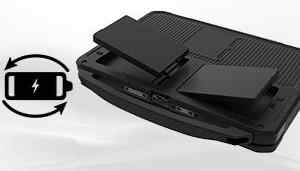 Hot-Swappable battery design for un-interrupted operation in field
Long battery life: Hot swappable Dual Batteries provide continuous power so you're ready for the day shift, night shift and everything in between.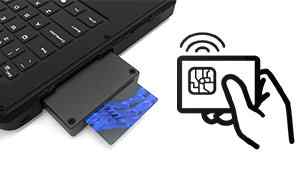 Smart Card reader and Removable SSD
Flexible optional storage: store critical data and with optional 2nd removable M.2 solid state drives (SSD) for up to 4TB of total storage.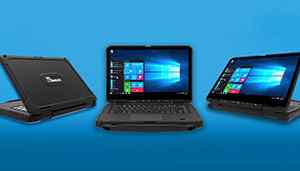 Flexibility & freedom
Flexible dual hinges allow WM-L140TG series to transform coming from a laptop in to a tablet computer. They are stiff enough to prevent the screen from wobbling when you tap on the glass, yet flipping the panel around to transition into tent or tablet mode doesn't require much force. It strikes the right balance between sturdy and practical.
What is a Rugged Laptop?
A proper rugged laptop will have at least two forms of certification. One is Military Standard MIL-STD, which proves the equipment has been tested in various harsh situations originally devised for military devices. The other one is Ingress Protection, IP rating, which verifies protection against the dirty-dusty environment, humidity, and water.
Military Standard Certification
Most rugged laptops adhere to durability standards MIL-STD 810H which serves as a series of performance tests to ensure products meet specific requirements for various defense-related purposes. The MIL-STD 810H laboratory test methods ranging from physical forces (drop, vibration, and shock) to weather conditions (high and low temperatures, rain, and humidity).
Although the military standard is specified for equipment used in arm forces services, it can also apply to non-defense industries. Companies across all industries turn to the MIL-STD 810H to validate their products as ruggedized. That is because the thorough test methods validate a product' 's readiness for a broad range of environmental conditions.
Certified Dust and Water Resistant
The IP ratings classifies the degrees of protection provided against the intrusion of solid objects, dust, accidental contact, and water in electrical enclosures. The IP rating consists of the letters IP followed by two digits and an optional letter. The two digits (characteristic numerals) signify conformity with the conditions. The first digit indicates the level of ingress protection upon solid foreign objects into hazardous parts (e.g., electrical conductors, moving parts, etc.) The 2nd digit is the defense against harmful ingress fluids.
Take the example of WM-L140TG Rugged Laptop with an IP65 rating, which means the tablet is tightly protected against dust and jets of water from any direction.