Unlock Unprecedented Performance Leveraging GPU Optimized Systems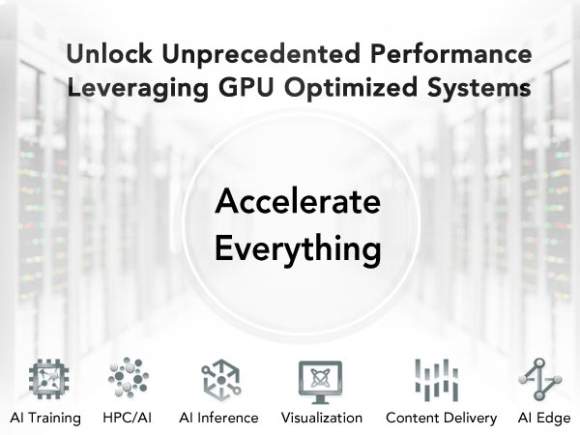 Unlock the full potential of AI with Supermicro's cutting-edge AI-ready infrastructure solutions. From large-scale training to intelligent edge inferencing, our turn-key reference designs streamline and accelerate AI deployment. Empower your workloads with optimal performance and scalability while optimizing costs and minimizing environmental impact.  
Supermicro has built a portfolio of workload-optimized systems for optimal GPU performance and efficiency across this broad spectrum of workloads.
Large Scale AI Training
Large Language Models, Generative AI Training, Autonomous Driving, Robotics
HPC/AI
Engineering Simulation, Scientific Research, Genomic Sequencing, Drug Discovery
Enterprise AI Inferencing & Training
Generative AI Inference, AI-enabled Services/Applications, Chatbots, Recommender System, Business Automation
Visualization & Design
Real-Time Collaboration, 3D Design, Game Development
Content Delivery & Virtualization
Content Delivery Networks (CDNs), Transcoding, Compression, Cloud Gaming/Streaming
1 NVIDIA L4 PCIe per node
6 2.5" NVMe drives per node
16 DIMMs DDR5-4800 per node
Free-air cooling and liquid cooling options
2U CloudDC for Cloud Data Centre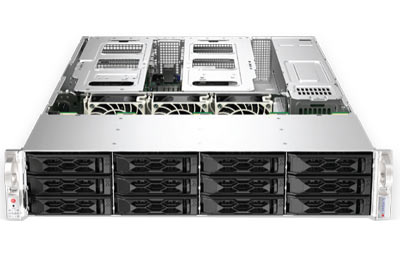 2 NVIDIA L40 PCIe or 4 NVIDIA L4 PCIe
12 3.5" SATA drives
16 DIMMs DDR5-4800
Up to 6 GPU
3 NVIDIA H100 PCIe
6 NVMe drives
32 DIMM Slots; Up to 8TB
Dual 4th Gen Intel® Xeon®processors
AI Edge
Edge Video Transcoding, Edge Inference, Edge Training
1U Compact Edge/5G Server
2 NVIDIA L4
2 Internal Drive Bays
8 DIMMs DDR5-4800
Single Socket Intel® Xeon-SP up to 32 Cores
3x PCI-E4.0 x16 slot
2x 10 Gigabit Ethernet Ports
Ultra-compact Fanless Edge Server
Up to 64GB DDR5
M.2 M/B/E-Key with Nano SIM Card Slot