SY-SG-1160/ALL
Device Server supports Modbus RTU/ASCII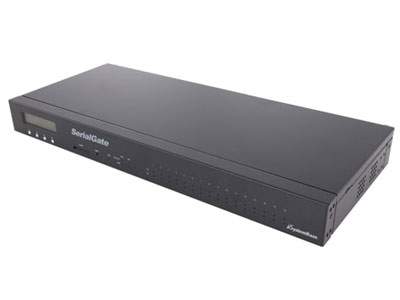 Supports Modbus RTU/ASCII
Serial Speed: Max. 921.6kbps
Commercial Grade Operating Temperature: 0 to 50°C
16 ports RS232/422/485
2 ports 10/100Mbps Ethernet
COM port Redirector and Other Utilities Provided
Extended settings and monitoring through PortView™
Firmware Update by Web Browser, TFTP or Telnet
SDK for Developers Provided
KC, CE Certified
Product Specification
Network
 
Protocol
TCP, UDP, Telet, ICMP, DHCP, TFTP, HTTP, SNMP, SSH, SSL
 
LAN
2 ports 10/100 Mbps RJ-45 (WAN, LAN)
 
IP Address Assignment
Static IP, DHCP
 
Serial
 
Number of ports
16 Serial ports
 
Interface
RS232/RS422/RS485: RJ-45
 
Maximum Speed
921.6 kbps
 
Signal Lines
RS232: TXD, RXD, DTR, DSR, RTS, CTS, DCD, GND
RS422: TXD+, TXD-, RXD+, RXD-
RS485: TRXD+, TRXD-
 
Data Bits
5, 6, 7, 8
 
Stop Bits
1, 2
 
Parity Bits
None, Even, Odd
 
Flow Control
RTS/CTS, XON/XOFF
 
Software
 
OS
Embedded LINUX
 
Management Tool
Web Browser, PortView™, SNMP, SGConfig
 
Configuration
Web Browser, SSH, Telnet, SGConfig
 
Security
SSH
 
Supported OS
COM Port Redirector for Windows 2000 / XP / 2003 / Vista / 7 / 2008
 
Hardware
 
Processor
ARM926EJ-S(400MHz)
 
Flash Memory
8MB
 
RAM
32MB
 
LED
TX, RX, Power, WAN(Link/ACT, 100M), LAN(Link/ACT, 100M), RDY(Ready), LCD
 
Power Requirement
100 ~ 220V AC,  Power Consumption: 2.5W
 
Dimensions
430(W) x 180.8(L) x 44(H) mm
 
Weight
5.5 Ib / 2470 g
 
Operating Environment
 
Operating Temperature
0 ~ 50 °C
 
Storing Temperature
-20 ~ 70 °C
 
Humidity
5 ~ 95% Non-Condensing
 
Certifications
 
Certificates
CE, KC
 
---
SG-1160/ALL is a device server that easily allows serial COM ports to be placed at the point of need, anywhere on the network. It has two serial ports and 10/100 LAN port and supports RS232/422/485 at speeds up to 921.6Kbps.

The SG-1160/ALL operates with TCP/IP socket communications or Windows applications using our COM port redirection software to communicate transparently with network-attached devices, just as if they were directly connected. The SerialGate family of device servers are ideal for POS, factory automation and building automation applications.

Connect Serial Devices to Ethernet
Easily connect RS-232/422/485 serial devices to your network using the SG-1160/ALL which can be conveniently placed next to your serial equipment.
Manageability
Configuration and management is quickly done by accessing the internal, secure web server or with PortView™, a Windows-based utility that offers powerful tools for SerialGate device servers.