SY-SG-2041RIL/ALL
Device Server Supports Modbus RTU/ASCII. RS-232 or RS-232/422/485 Interface: 4 ports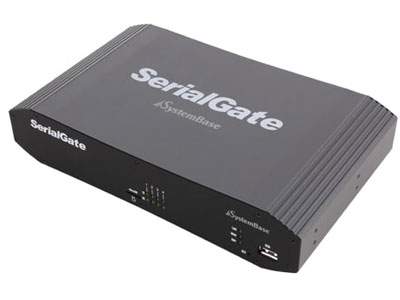 Supports Modbus RTU/ASCII
Industrial Grade Operating Temperature: -40 to 85°C
RS-232 or RS-232/422/485 Interface: 4 ports
10/100Mbps Ethernet: 2 ports
Provides COM Port Redirector, PortView™, TestView™
Provides Web Browser, Telnet, SSH, SNMP,PortView™, SGConfig for Management
Built-in ±15 KV IEC ESD Protection
DIN Rail Mountable
Product Specification
Network
Protocol
TCP, UDP, Telet, ICMP, DHCP, TFTP, HTTP, SNMP, SSH, SSL, ModBus TCP
Ethernet
2 ports 10/100 Mbps RJ-45
IP Address Assignment
Static IP, DHCP
Serial
Number of ports
4 Serial Ports
Interface
RS232/RS422/RS485(RJ45)
Maximum Speed
Max 921.6 Kbps
Signal Lines
Please refer to the Pin Assignment from the Dimension tab
Data Bits
5, 6, 7, 8
Stop Bits
1, 2
Parity Bits
None, Even, Odd
Flow Control
RTS/CTS, XON/XOFF
Software
OS
Embedded LINUX
Management Tool
PortView™, SNMP, Web, TestView™
Configuration
Web, SSH, Telnet, SGConfig
Security
SSH
Utility (Supported OS)
COM Redirector for Windows 2000 / XP / 2003 / Vista / 7 / 2008 / 8 / 8.1 / 10
Hardware
LED
Ready, Serial
Power Requirement
12VDC/3A Adapter(Screw Type), Terminal Block(VCC/GND/FGND), Consumption: 2W
Dimensions (W x L x H)
237 x 143.6 x 48.7 mm
Weight
955.4 g
Operating Environment
Operating Temperature
-40 ~ 85 °C
Storing Temperature
-60 ~ 150 °C
Humidity
5 ~ 95% Non-Condensing
Certifications
Certifications
KC, CE
---
SG-2041RIL can be used anywhere in the network to connect to serial device using the 9 pin D-sub interface with DE shell size. This device server support maximum 921.6Kbps for the RS-232 or RS-232/422/485 serial interface. ModBus is supported also. The COM Redirector is provided for remote control, monitoring and data communication.

Optimized for Industrial Use
SG-2041RIL provides two types of power connection. The users can use the adapter or the terminal block to supply power to the system. The system supports operating temperature from -40 to 85°C (by IEC60068-2-33 temperature cycle) and pass the IEC60068-2-30 temperature and humidity environment test. It provides stable operation in tough environment for industrial use.

Enhanced Surge and ESD Protection
To provide high reliability and stability, SerialGate has passed the tests with IEC 61000-4-2(ESD Level 4), ±8KV(Contact), ±15KV(Non-contact), and ±15KV(HBM). The IEC61000-4-4(40A) and IEC61000-4-5(24A) standard for surge protection is a built-in feature for possible incident of ESD, EFT, and surge to operate stably. This will eliminate malfunction or damaging the product with overcurrent.

Provides Various Software Utilities
The SerialGate series comes with following utilities:
COM Port Redirector: This utility allows the users to add virtual port to the PC without modifying the client software to enable the serial communication.
PortView™: Monitoring and managing utility for the serial ports in the SerialGate.
TestView™: A utility for checking performance and stability of the data communication between the serial ports and Ethernet port.