SY-SG-3011PCL
Serial Speed: Max. 921.6kbps. 1 port RS232/RS422/RS485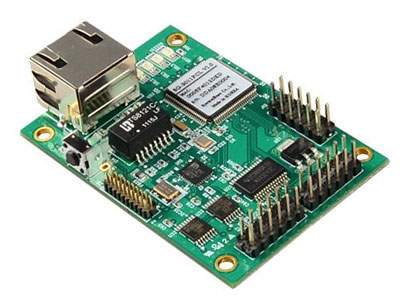 Serial Speed: Max. 921.6kbps
Commercial Grade Operating Temperature: 0 to 70°C
1 port RS232/RS422/RS485
1 port 10/100Mbps Ethernet
COM Port Redirector and Other Utilities Provided
Firmware Update by Web Browser, TFTP or Telnet
Management by Web Browser, SGConfig
Compact Sized Module
Adapter Input: 5V DC
Product Specification
Network
Protocol
TCP, UDP, Telet, ICMP, DHCP, HTTP
LAN
10/100 Mbps RJ-45 Port 
IP Address Assignment
Static IP, DHCP
Serial
Connector
Pitch 2.5mm Pin Header
Interface
RS-232/422/485, UART TTL
Maximum Speed
921.6 Kbps
Signal Lines
RS232: TX, RX, GND, RTS, CTS, DTR, DSR, DCD, RI
RS422: TX+, TX-, RX+, RX-
RS485: TRX+, TRX-
UART TTL: TXD, RXD, RTS, CTS
Data Bits
8
Stop Bits
1, 2
Parity
None, Even, Odd
Flow Control
RTS/CTS, XON/XOFF
Software
OS
RTOS
Management Tool
Web, SGConfig
Configuration
Web, SGConfig
Security
SSH
Supported OS
COM Port Redirector for Windows 2000 / XP / 2003 / Vista / 7 / 2008
Hardware
LED
Ready, Serial
Power Requirement
DC 5V Adapter,  Consumption: 1.2W
Dimensions
46(W) x 77.5(L) x 25(H) mm
Weight
20.7g
Operating Environment
Operating Temperature
0~70℃
Storing Temperature
-60 ~ 150 ℃
Humidity
5 ~ 95% Non-Condensing
---
SG-3011PCL/ALL is a compact sized device server module that easily allows serial COM ports to be placed at the point of need, anywhere on the network. It has 1 serial port and 10/100 LAN port and supports RS232/422/485 at speeds up to 921.6Kbps. The SG-3011PCL/ALL operates with TCP/IP socket communications or Windows applications using our COM port redirection software to communicate transparently with network-attached devices, just as if they were directly connected. Your application does not require customization.

Connect Serial Devices to Ethernet
Easily connect RS-232/422/485 serial device to your network using the SG-3011PCL/ALL which can be conveniently placed next to your serial equipment.

Powerful Management Utilities
COM port redirection software creates virtual COM ports so your application talks to your serial devices over the Ethernet without any customization. TestView™ is a Windows based program used to test and evaluate the communication performance and stability of serial and LAN ports on SerialGate device servers.