SY-Multi-4U COMBO
Latching USB to 4 ports Serial Adapter/Converter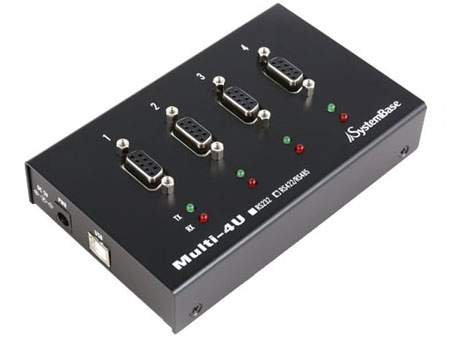 Latching USB to 4 ports Serial Adapter/Converter
RS422/485 Interface
Supports USB Rev. 2.0
Communication speed: Up to 921.6kbps
Display communication status via TX/RX LED
Power to the pin – deliver +5V to pin 9
Auto Togging: Automatic control of BUS I/O for RS422/RS485
Slew-Rate Limit Control
±15KV Surge protection
Product Specification
Interface Type
  Specification
USB Specification Rev. 2.0, Hi-Speed
Serial
Interface
RS422/RS485(Combo)
  Number of ports
4
  Maximum Speed
921.6Kbps
Signal Lines
RS422: TXD+, TXD-, RXD+, RXD-
RS485: TRXD+, TRXD-
  Surge Protection
15KV Surge protection
  Flow Control
XON/XOFF
  Data crash prevent
Auto Toggling
Hardware
Controller
FT4232H
  Connector
DE-09S (DB9 Female)
Software
Supported OS
Windows 7/8/8.1/10
Windows Server 2008, 2012
Linux
  Utility
TestView
Operating Environment
Operation Temperature
0 ~ 50 °C
  Storing Temperature
-20 ~ 70 °C
  Humidity
5 ~ 95% Non-Condensing
Certifications
Certificates
CE, FCC, KC
---
Easily and quickly add additional serial ports to your system through the USB port. The Multi-4U delivers maximum performance up to 921.6Kbps. The USB to Serial Multiports support most Windows and Linux operating systems and include 15,000 volt surge suppression eliminating blown ports.
The Multi-4U includes a 4 port panel with a DB9 connector and is available in two models, RS232 and RS422/RS485. Simply plug in the USB connector and you have a COM port to connect modems, printers, bar-code scanners or other any serial devices.

Connector Panel:
The Multi-4U plugs into the USB port on your system. The connector panel has four DB9 female connectors and is available with support for either RS232 or RS422/RS485. LEDs next to the connector provide visual communication status of the ports. No additional power supply is required.
Supports USB Specification Revision 2.0:
The Multi-4U supports revision 2.0 and is compatible with revision 1.1
15KV Surge Protection – Built-in:
Don't risk blown ports and down time. The Multi-4U has built-in 15,000 volt surge suppression to protect against electrical spikes and blown ports giving you more reliable communications.