SY-uGate-701F
Industrial USB hub supporting USB 2.0 Full-Speed 12Mbps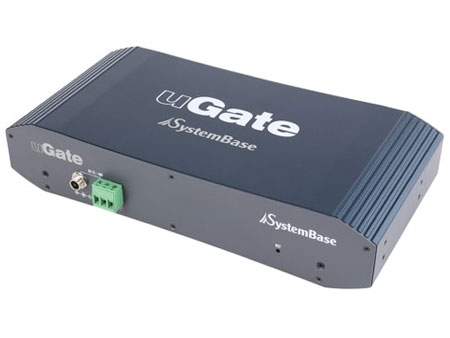 Supports USB 2.0 Full-Speed 12Mbps
Dual Power Supply: Power Jack, Terminal Block
DIN Rail Mountable
Supports 12 ~ 48 VDC External Power Supply
5V, 500mA Power Supply to each port when External Power Supply is connected
Power, Link LED for each USB ports
Supports Industrial Grade Temperature: -40 ~ 85°C
Built-in 400W Surge Protection in 10/1000µs Peak Pulse
ESD Protection: ±4KV Contact, ±8KV Air
Product Specification
Interface Type
  Specification
USB Specification Rev. 2.0 Full-Speed
USB Interface
Upstream Port
1 port USB Type B Female Connector
  Downstream Port
7 ports USB Type B Female Connector
  Maximum Speed
12Mbps
Protection
Built-in ESD Protection: Contact ±4KV, Air ±8KV
Each Downstream USB Ports: ±5KV Digital Isolation
Power Supply
Input Voltage
12 ~ 48 VDC
  Power Consumption
3A at 12VDC
Hardware
LED
Power, Link
  Dimensions
118 (W) x 237 (L) x 48.65 (H) mm
  Weight
788g
Operating Environment
Operating Temperature
-40 ~ 85 ℃
  Storing Temperature
-40 ~ 85 ℃
  Humidity
5 ~ 95% Non-Condensing
Certifications
  Certificates
CE
---
The uGate-701F is an industrial USB hub supporting USB 2.0 Full-Speed 12Mbps. It supports -40 to 85°C operating temperature and equipped with ±8KV ESD level 4 protection circuit to withstand the extreme environment. When an external power supply is connected, each port can provide 500mA power to the USB devices. Wide range of external power can be supplied from 12 to 48 volt.
The users can use the adapter or the terminal block to supply power to the system. When one of the power supply is broken, it will get the power from the other source. Therefore, uGate series are suitable and will operate stable in the industrial environment.

Provides Digital Isolation
The uGate F series supports ±5KV digital isolation. This feature replaces existing opto-isolation. It has ±5KV isolation and can protect from ±10KV surge to prevent damages to the devices. The opto-isolation is based on LED, which is has limits regarding current, temperature and product life that can cause inconsistent signal output. The digital isolation was applied to resolve these issues for more stable operation in an environment with constant noises.
Industrial Grade Operating Temperature
The uGate-701F supports operating temperature from -40 to 85°C (by IEC60068-2-33 temperature cycle) and pass the IEC60068-2-30 temperature and humidity environment test. It provides stable operation in tough environment for industrial use.
Surge Protection
Most of the surge, the rapid increase in electrical current or voltage shock, comes from the power cable. When there are weak surge that occurs often, it will deteriorate the components. The strong surge will break the circuit that will be not be recoverable. Most surge occurs by lightening. It can also be generated by an electrical actuator.
The main source of the surge occurrences cannot be eliminated therefore some method of protection is required to prevent this problem. uGate series are equipped with built-in surge protection that will withstand and protect the internal or external device from 400W surge in 10/1000 ㎲ peak pulse.
ESD Protection
The ESD (Electrostatic Discharge) occurs by a person or other sources which is cause of the deterioration or destruction of the electronic components. In order to prevent this, uGate series has built-in ESD protection based on IEC 61000-4-2 (ESD Level 4 Protection) to resist electrostatic discharge of ±4KV by contact or ±8KV by air.