Industrial RFID for Product Traceability
Industrial Identification with a full line of High Frequency (HF)  systems designed specifically for manufacturing. Our experience has enabled us to provide field-proven solutions for traceability in advanced manufacturing facilities.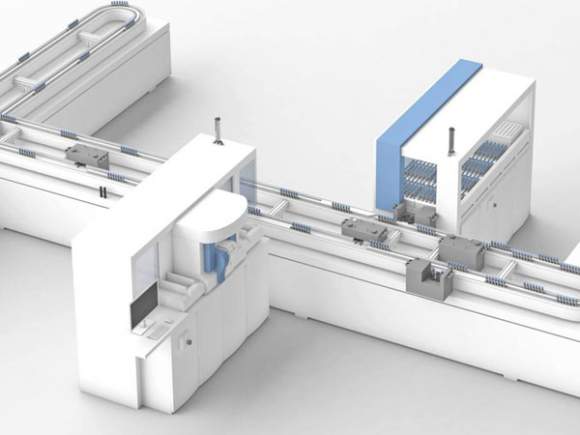 Traceability Goal
Manufacturers utilize traceability to make improvements in the following areas:
Comply with regulatory and quality standards
Proactively manage product recalls with near-real-time corrective action
Improve customer safety, customer satisfaction, and profit margin
Manage product quality and reduce the cost of nonconformance
Reach Your Goals with Traceability
Traceability is the act of documenting every step in a process chain. It will record the history, location, or use of an item by means of 
automated identification. Manufacturers are facing ever-increasing competitive pressure and legal requirements. The desire for visibility in the process, customer satisfaction, profits, and compliance are pushing many manufacturers to look at traceability as a long-term strategy. Manufacturers have discovered that implementing a traceability program is a proven method to meet their strategic goals.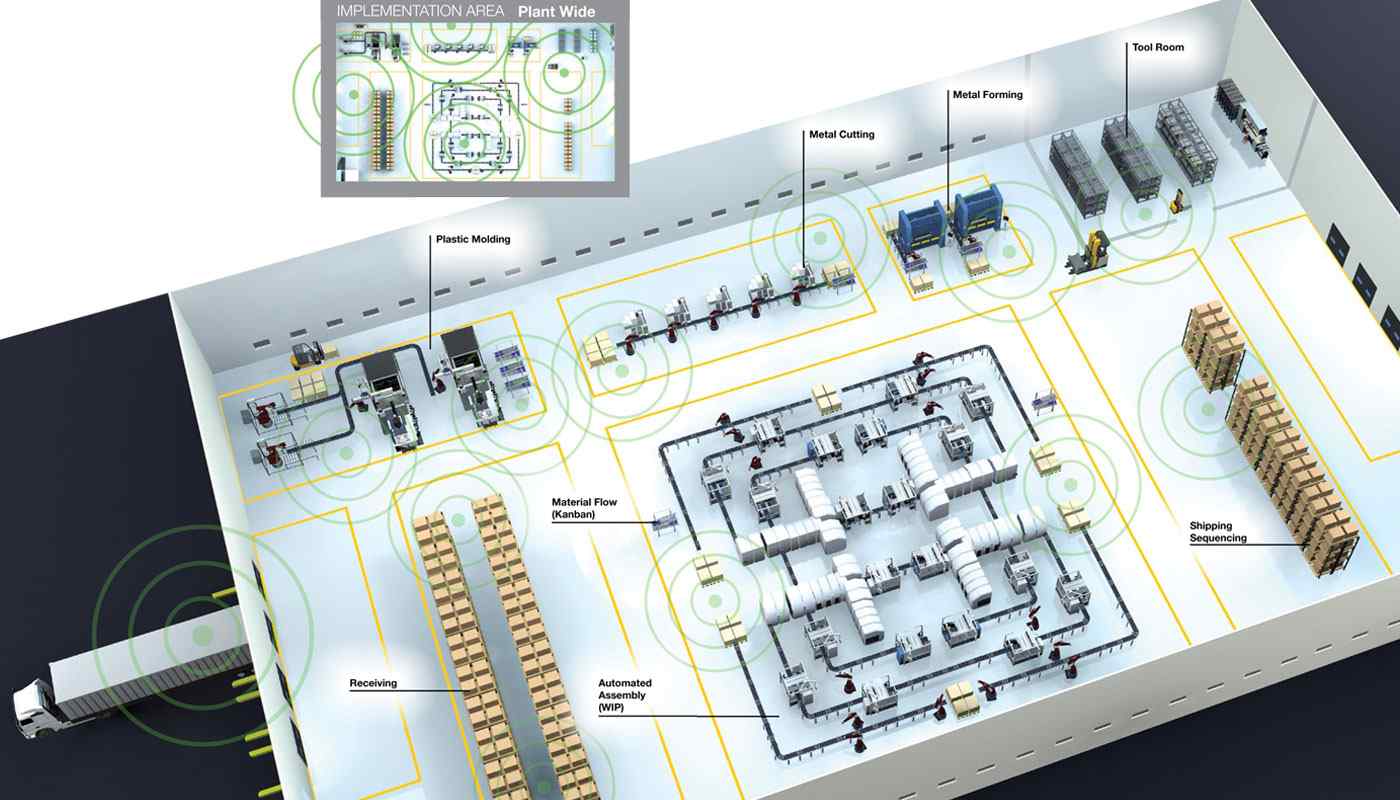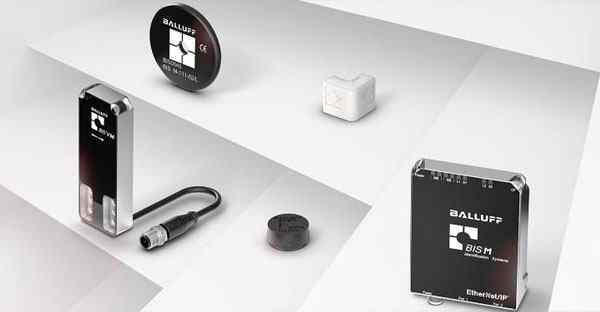 Starting a Traceability Program 
This guide provides a comprehensive overview of the four general areas where a traceability program will provide a significant return on investments. Included in the overview are key ROI elements to help you plan your strategy. Identifying your area(s) will help shape the type of hardware and software required, as well as process changes, to accomplish your goals. 

Traceability Implementation Areas:
Asset Tracking: Plant-based assets
Electronic Kanban: Material flow and automated replenishment
Production Control (WIP): Assembly processes
Logistics: Material flow between plants
---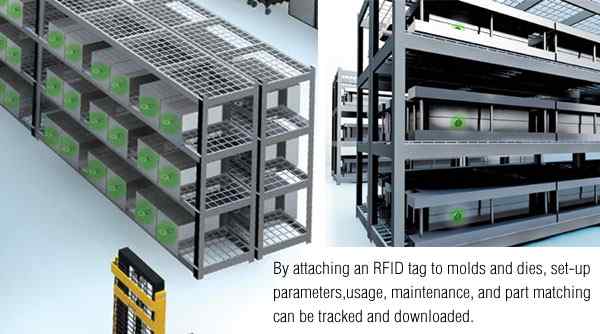 Asset Tracking: Plant-based assets
The goal of plant-based asset tracking is to reduce non-productive time and asset losses while increasing overall productivity and utilization by accurately tracking assets. RFID technologies track changes to an asset's location, condition, conformity status, and availability
Commonly Tracked Assets:
Machine tools/ Hand tools
Modular automation sub-systems
Molds and dies
Totes/containers
Storage tanks and vessels
---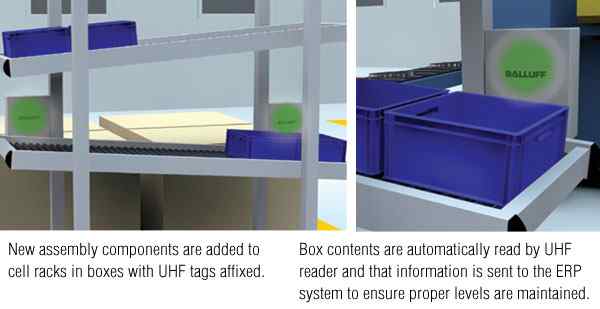 Electronic Kanban: Material flow and automated replenishment
Electronic Kanban (E-Kanban) is a messaging system that uses a mix of technology to trigger the movement of components and materials within a manufacturing facility.
With RFID technology, there is the possibility to fully automate the identification process. This will result in faster tracking with more reliability and less operator intervention. A Typical E-Kanban system will see inventory marked with RFID tags that are scanned at various steps in the manufacturing process to signal usage levels that are sent back to an ERP system for replenishment.
---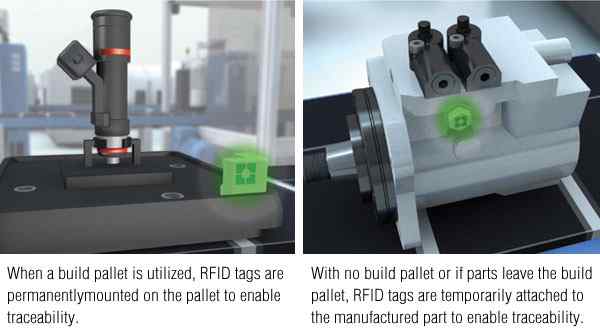 Production Control (WIP): Assembly processes
Manufacturing plants utilizing automated assembly have unique requirements when it comes to tracking their work-in-process (WIP). Tracking can also include all the lineage information from all the components used in the final assembly.
Most automated manufacturing lines also utilize flexible manufacturing where multiple product versions are made on one line.
When we look at an automated assembly in total, there are three primary areas of tracking: Build, Process, and Lineage Information.
---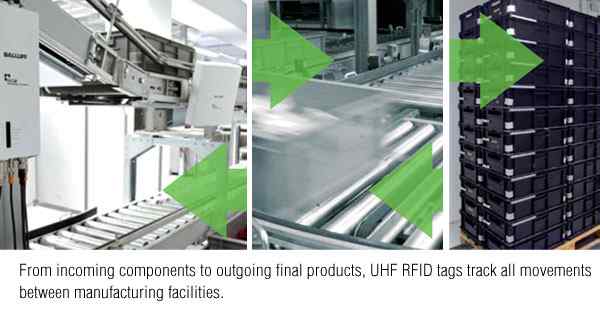 Logistics: Material flow between plants
Logistics track incoming and outgoing shipments of parts and products between the final assembly plant and various sub-suppliers. RFID tags  are affixed to containers or pallets, so parts can be tracked from individual facilities.
As parts are loaded onto the pallets, the exact quantity, version number, serial number, etc. are written RFID tag for tracking. When the container arrives at the destination facility, readers automatically verify the contents. As parts are used and inventory levels drop, the ERP system will signal the need to replenish. When the pallet or container is empty, the RFID tag is erased for reuse or is destroyed. The container is then sent back to the supplier where the process starts all over again.