Intelligent Feedback System
Toilet feedback system aimes to monitor toilet cleanliness and improve toilet services. The 10"/ 15" feedback system enables visitors to rate their experience and submit a service request for unsatisfactory service.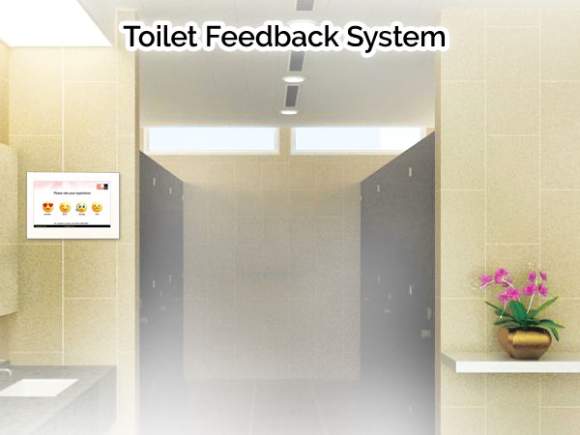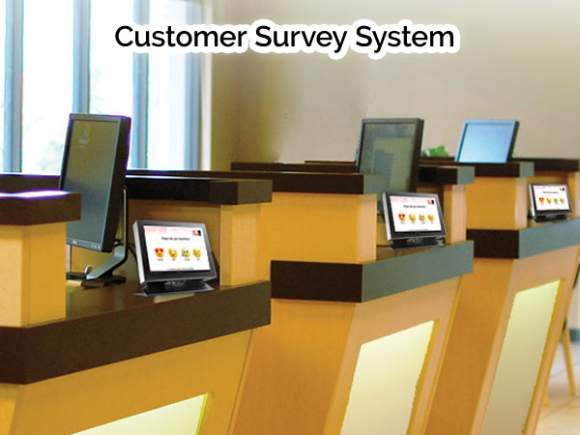 System Architecture: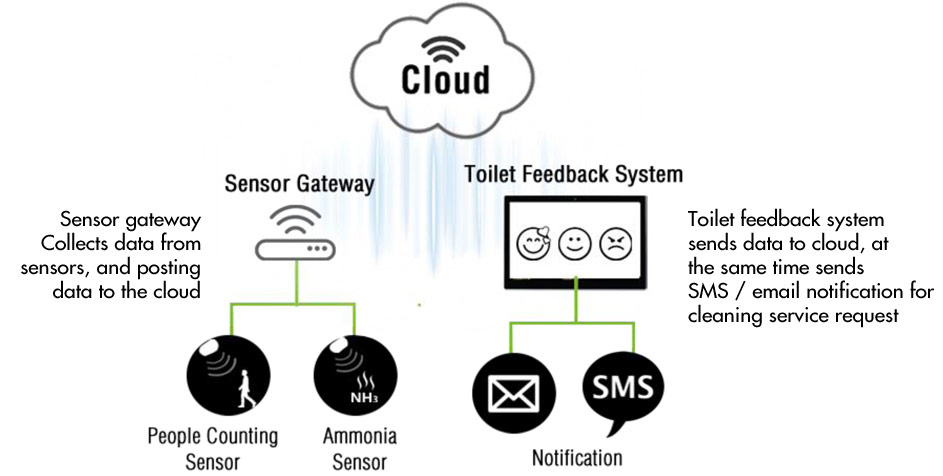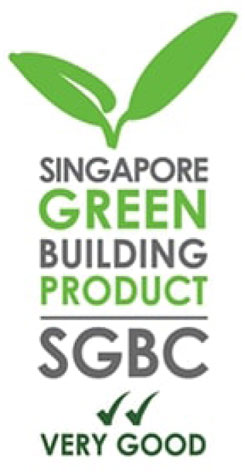 Touch feedback system appears to be a technology-driven solution designed to enhance toilet cleanliness and improve overall toilet services. The 10"/ 15" interactive touch feedback system enables visitor to rate their experience and submit a service request for poor and bad services. Upon submit, cleaner received SMS and perform the necessary corrective action immediately. Cleaner is required to scan ID card to login the system, clear fault reporting, submit checklist, etc.
How It Works?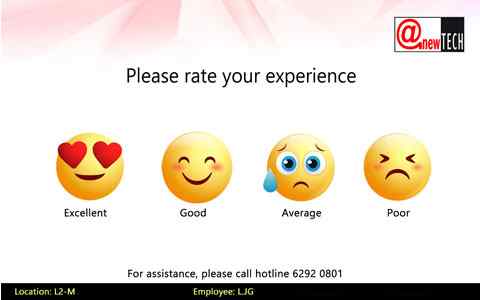 Page 1:
The user is presented with a single question, likely related to their experience using the facility.
Alongside the question, there are five icons representing different levels of feedback or responses.
If the user clicks on the "Poor" or "Bad" icon, they are directed to Page 2 for further input.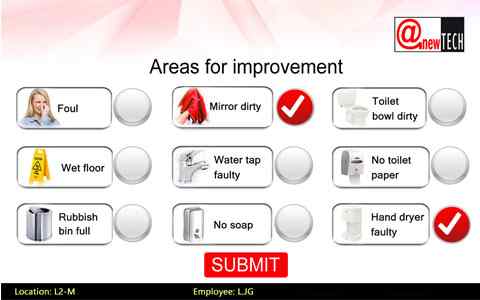 Page 2:
The user is presented with a set of multiple-choice answers, allowing them to choose one or more icons that best represent their concerns.
These icons correspond to specific issues that they found unsatisfactory.
After selecting the relevant icons, the user can press a "Submit" button to send their feedback.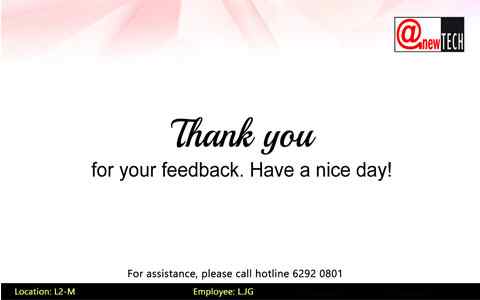 Page 3:
Once the user submits their feedback, they receive a "Thank You" message, acknowledging their participation.
The system then transitions to playing an advertisement, which is displayed as an image. 
This advertisement serves as content to engage users during idle time.
Benefits of the Process:
User Engagement:
The multi-step process engages users in providing feedback and encourages them to share their concerns.
Data Collection:
The system collects data on user feedback, allowing facility managers to understand visitor perceptions and areas that need improvement.
Prompt Acknowledgment:
Users receive immediate acknowledgment of their feedback, creating a sense of participation and involvement.
Idle Time Utilization:
The system utilizes idle time by displaying advertisements, potentially generating revenue or promoting relevant content.
---
Highlight: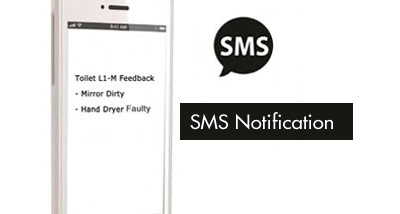 SMS notification
The feedback submitted are sent to cleaner's phone via SMS.
If after 30 mins (user to set their own timing) cleaner never respond, the system sends SMS to supervisor.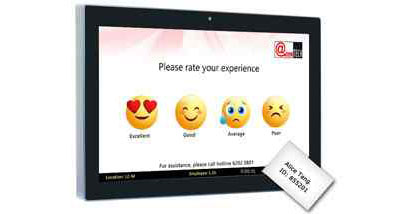 Login with Mifare RFID card
Cleaners login to respective feedback system by scan their ID card or pin ID.
Once login, the system clear the flag and respond time is recorded.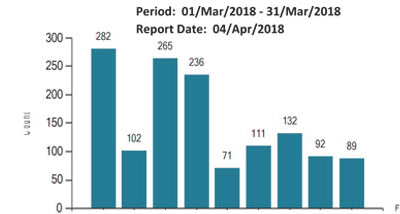 Real-time Report
The feedback sent to  back-end server via Wi-Fi/ LAN. Data are presented in an easy to read graphical format
The report can be exported to Ms. Excel Format, providing key performance indicator (KPI) information straight to management.
Key features and benefits:
Monitoring Toilet Cleanliness:
The primary goal of the system is to monitor the cleanliness of toilets. It addresses an important aspect of visitor satisfaction, as clean and well-maintained facilities contribute to a positive experience.
Technology-Enabled Solution:
The use of a 10" or 15" feedback system implies that visitors are provided with a touchscreen interface for interaction. This suggests a modern and user-friendly approach to gathering feedback and service requests.
Real-Time Feedback:
The system enables visitors to provide immediate feedback on their experience. This real-time aspect of the feedback system can help address issues promptly and ensure that concerns are acknowledged.
Visitor Ratings:
The system collects feedback data that can be analyzed to gauge overall satisfaction levels. These ratings can provide valuable insights into which toilets might need more attention or improvements.
Service Requests:
In cases where visitors encounter unsatisfactory service or conditions, the system allows them to submit service requests. This empowers users to report issues that need attention, such as cleaning or maintenance requirements.
Data Collection and Analysis:
The feedback system likely accumulates data over time, enabling facility managers to analyze trends and patterns. This data-driven approach can help identify recurring problems and areas for improvement.
Continuous Improvement:
The collected data, including ratings and service requests, can serve as a foundation for making informed decisions to enhance toilet services and make necessary adjustments.
User-Friendly Interface:
The touchscreen interface makes it easy for visitors to provide feedback and submit service requests. This user-friendliness can encourage more participation and engagement.
Visitor Satisfaction:
By involving visitors in the feedback process, the system demonstrates a commitment to providing a positive experience. Visitors feel heard and valued, which contribute to their overall satisfaction with the facility.
Maintenance Efficiency:
The system's real-time nature allows maintenance staff to respond more efficiently to service requests. They can prioritize tasks and allocate resources based on the urgency of reported issues.
Featured Products: All-in-One Touch Panel PC
In summary, the Toilet Feedback System offers a technology-driven solution for monitoring and improving toilet cleanliness and services. By providing visitors with an accessible way to share their experiences and report issues, facilities can enhance visitor satisfaction, address concerns promptly, and continuously improve their services based on data-driven insights.