Kitchen Display System
The provision of kitchen display system (KDS) increases restaurant efficiency by connecting front-of-house staff with the kitchen staff and enabling seamless communication, reduced human errors, and improved service speeds.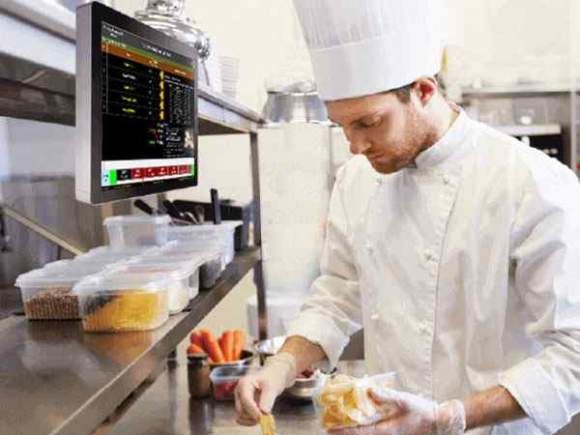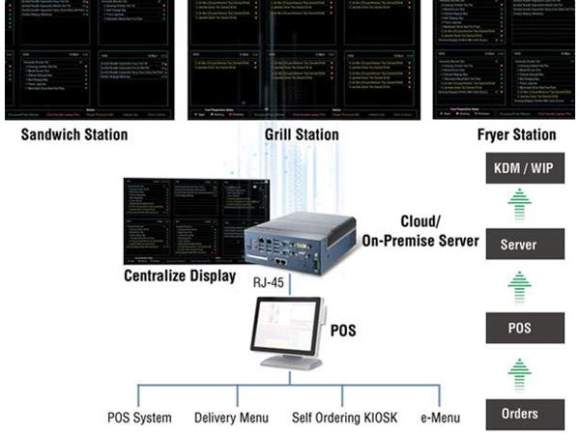 With the help of modern technology, the food and beverage sector has greatly enhanced operational efficiency and service quality. KDS enables digitalized process from ordering to cooking to deliver even faster service. Orders are sent to KDS server and dispatch to respective station, prompting staff to start prepare the ordered meals.
Anewtech has developed a comprehensive KDS features hardware and software integration to realize digital transformation in F&B sector. KDS is customizable to support different restaurant service styles and restaurant staff preferences. KDS also support remote management software that enables remote device monitoring, order management and stock management.
Kitchen Display Monitor (KDM) 
42" All-in-One Stainless Display Monitor + Embedded PC
Work in Progress (WIP)
21.5" All-in-One Touch Stainless Panel PC

POS system delivers order to KDS server
KDS server routes food to the appropriate kitchen station KDM: grill, sandwich, fryer, etc. prompting staff to start prepare the ordered meals
KDM receives food preparation status from WIP
Packaging or dispatch station scan QR code on receipt to
    clear the completed order  from KDM

WIP receives order from KDS server
KDS server routes food to the appropriate kitchen station
Staff update the food preparation status on WIP (waiting,  start cooking, finished cooking). The status updates accordingly on KDM and cook time is recorded
Recipe viewer shows a dish's ingredients, cooking methods and food picture at the touch
Features:
Systematic order management and routing for efficient back-end operations

KDS server automatically dispatch orders to the appropriate kitchen station after categorizing each order item to ensure easy identification.
This improves order management by streamlining the cooking process and increasing staff efficiency.

Seamless food preparation color-code status update

Help staff manage incoming orders effectively with KDM and WIP classifies incoming orders by color-code status (waiting, start cooking, finished cooking).
Staff update the status via WIP and the status refresh instantly on KDM.

Recipe viewer function

By tapping on the food item, recipe viewer function displays item image, ingredients and cooking procedure on screen.
Recipe viewer also manage quality control since the recipe includes images of what the end product should look like before they get ran to diners or packaging station.
Software Features:
Kitchen Display Monitor (KDM)

Food Items together with Order No., and status appear on KDM.
KDM receive the status update from WIP.

Work In Progress (WIP)

Food items together with status appear on WIP. Staff taps on food item to view recipe, and clicks on colour button to update preparation status.

Queue Number Display

Dispatch station sends every completed item to Queue display, together with Order ID broadcast

Delivery Display

Packaging station sends completed order to Delivery display. The order highlighted in green color together with sound notification.
Benefits:
Process Optimization
Recipe and Manual
Efficient Meal Cooking & Packing
Correct Order Routing to Kitchen Stations
KDS organize orders for respective kitchen station to ensure smooth preparation and speed up the meal-making process by using recipe images to quickly convey items required for each order.

Staff can view recipe and food image by tapping on the food item on WIP screen.

WIP take some of the pressure off staff who otherwise might have to memorize numerous meals recipe.

Meal cooking time is recorded, thus help to measure staff productivity.

Food preparation status is update seamlessly, thus packing time can be well-estimated

Kitchen display server directs food items to the relevant KDM by moving items into correct section.

KDM layout orders in an easy-to-read fashion, not in someone's handwriting that might be indecipherable.
Featured Products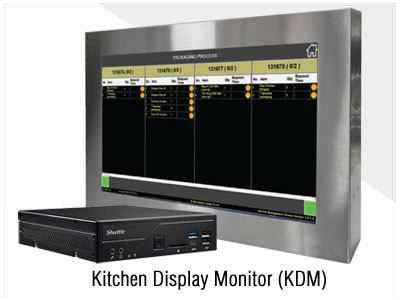 42" Stainless Monitor + Embedded PC